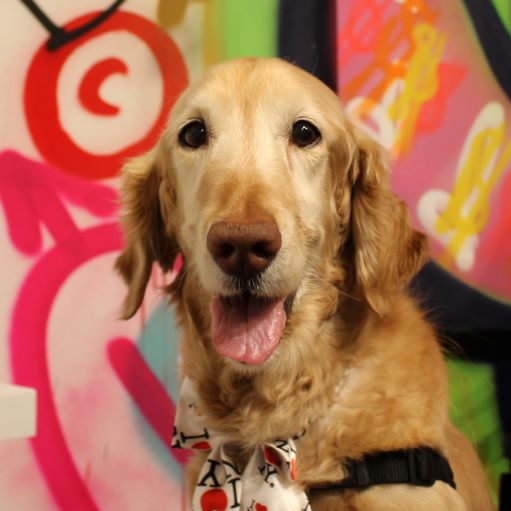 When I began fostering Gracie, we thought that her body condition was a result of malnutrition and given the financial difficulties faced by many people due to the pandemic, that was not such a far fetched idea.  After spending time with Gracie, I knew that she had been very loved because of her sweet nature and impeccable manners.  Once we learned that she had cancer which was causing her inappetence, I was convinced that her family had surrendered her because they could not afford vet care.  After Gracie passed, I kept thinking about her family – how they must have been agonized to give her up and not have any idea what became of her.  I was determined to return her ashes to her family and let them know that even though she was not with them at the end, she was loved.  And last weekend, I did just that.
I know the world of rescue is filled with heartache and broken promises.  I wasn't naïve, but I just felt it in my gut that Gracie's family had not willingly parted with her.  The head of Rescue City was a bit skeptical and warned me that the outcome might not be what I wanted, but she acceded to my wishes and reached out to the municipal shelter to give permission for them to share my phone number with the family that had surrendered Gracie.  We were busy that morning with an intake of 40 dogs from Kentucky, so I did not hear my phone ring.  Later that afternoon I saw I had missed calls and a message from an unknown number.  It took Gracie's mom less than an hour to reach me from the time the recue reached out to the shelter.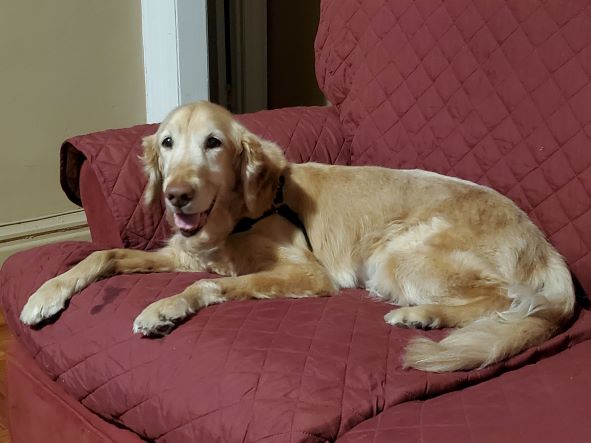 Lisa and I spoke later that day.  She had simply been provided my number and told I had information about her Bella with no updates.  And so it fell to me to break the news that her beloved dog had passed.  I gave her a brief update of the cancer and osteoarthritis diagnoses, and even through her pain, Lisa kept expressing gratitude that Bella had been loved and well cared for in her final months.  We agreed to meet up the following Saturday so we could talk more and so I could return Bella's ashes.
October 2, 2021, one month after Gracie passed, was a gorgeous autumn day in New York City.  Lisa, her son (Karl), my friend (Virginia), and I met in the Conservatory Garden in Central Park, at a fountain dedicated to Frances Hodgson Burnett, author of A Little Princess, which seemed a fitting place to honor Gracie.  While I had learned a bit about her story in our phone call, meeting with Lisa gave me the chance to hear the full story.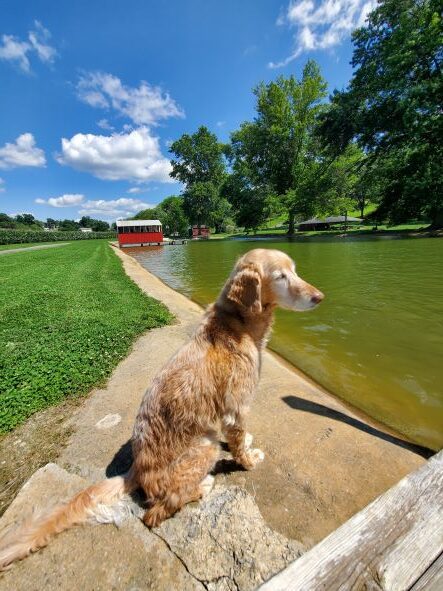 Bella was born on April 1, 2011 in Texas and came to live with her family when she was 8 weeks old.  Around age 6, Bella and her family moved to the Northeast region, living in Connecticut and upstate New York before recently settling in New York City.  She was loved by everyone who met her, a treasured companion, and sister to a Cavalier King Charles Spaniel named Kane.  She began losing weight in the spring, which was attributed to her temporarily living with Lisa's daughter and not being fed the same dog food.  Then came housing struggles that left Lisa with no place to keep her dogs.  She brought Bella and Kane to the municipal shelter asking them to hold the dogs for a few days until she figured out where she would land.  When Lisa went back for her dogs, Kane was returned to her, but Bella was gone.  Shelter staff told her that Bella was severely anorexic, likely had very little time to live, and was sent to hospice.  When Lisa asked if she could contact the hospice to be there when Bella was euthanized (which she assumed is what they meant would happen), they told her there was no way to contact the group that had Bella.  Lisa explained how she tried to put thoughts of Bella out of her mind but kept thinking that Bella would never understand why they never came back for her and was heartbroken that after being with Bella her whole life, she was not with her at the end.
I told Lisa and Karl about my time with Bella, her love of long walks and car rides, her medical issues, that she started eating again, and about her mobility decline at the end.  I gave them her ashes, a paw print, lock of her hair, and printed photos.  Lisa kept thanking me for caring for Bella and I kept insisting that it was my honor to love her Bella.  We laughed and cried, and expressed that despite our sadness, our hearts felt lighter to have this closure.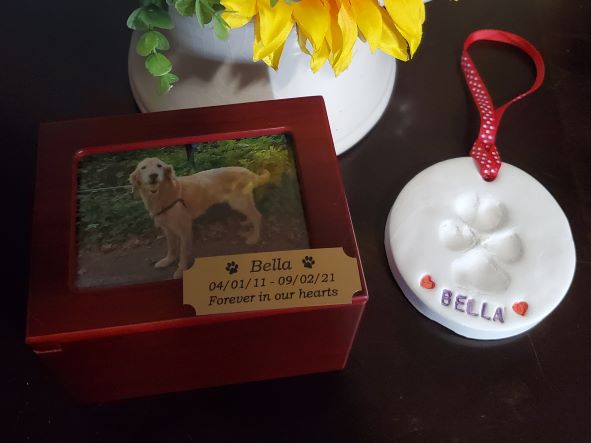 I don't think Lisa had the financial means to bring Bella to the vet in the spring when she was losing weight and knowing that it took an expensive ultrasound and biopsy to diagnose the cancer, I'm pretty sure Bella would have died a painful death without an intervention.  It's distressing that Bella had to be separated from her family to receive a diagnosis and medication that allowed her to begin eating and gaining weight.  And while I know Bella bonded to me and had good quality of life at the end, it does not replace the 10+ years of love from her family.  I keep thinking how lucky I am that had anything ever happened to me while Griffin was alive, any number of family and friends would have stepped up to care for him and keep him in my life.  And I'm so heartbroken that Lisa did not have that same support system in her life.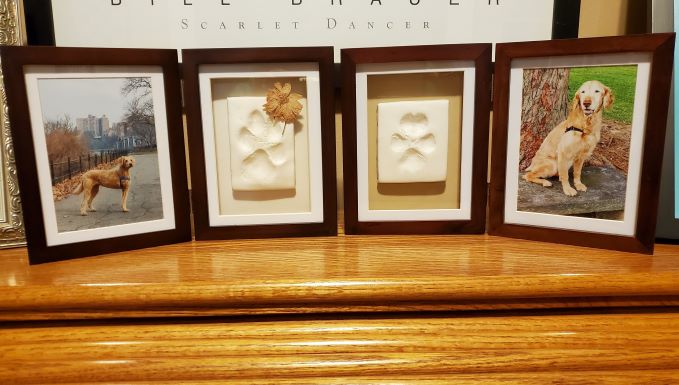 I'm not sure if I believe that there is always a reason why things happen, but in this case, I'm glad that it was me chosen to care for Bella.  Lisa and I have kept in touch via text since we met in person, and I hope that I can be a support for her if she ever needs it in the future.  And I am ever so thankful that we were given the chance to meet and that Bella is back home with her family where she belongs.