I am thrilled to report that Kilo has found his forever family!  In my last post about Kilo, I described his ideal adopters – has large/guardian dog breed experience (✓), a backyard (✓), is home for most of the day (✓), lives within driving distance of New York City (✓), and another dog would be icing on the cake (🎂).  Sara, Todd, Izzy, and Schuyler (Sky) welcomed Kilo (now Aries) to their family on Monday.  They live in upstate New York in a quiet neighborhood with a huge backyard.  Sara works from home and has reported that Kilo is super helpful around the house with chores like laundry. 😊 Sky, an almost 3-year old Saint Bernard, wasn't too sure about her boisterous younger brother at first, but she is showing him the ropes and even learning a thing or two from him about playing with sticks in the yard.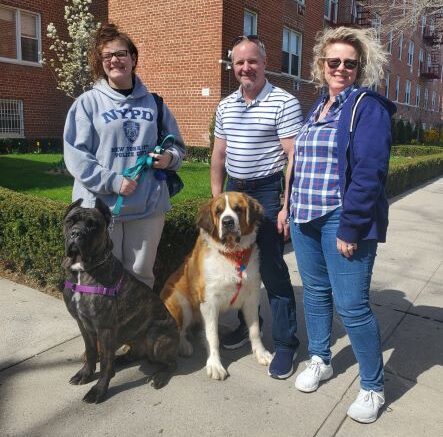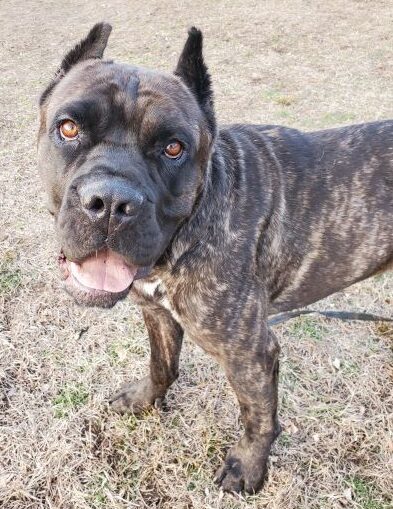 In recent weeks, Kilo and I had settled into a good rhythm.  With the weather trending warmer, our morning walks become even more enjoyable and our evening walks after I returned home from work stretched out longer with the daylight.  Kilo's guardian angel, Kim, loved her afternoon walks with him and always gave him extra attention.  We took two trips out to Long Island – once for a play date with Juniper and another time to hang out with Dad and Donna (I finally got to meet Sparky, the pup that they adopted from Rescue City in January!).  We played lots of fetch, and Kilo made new human and doggo friends.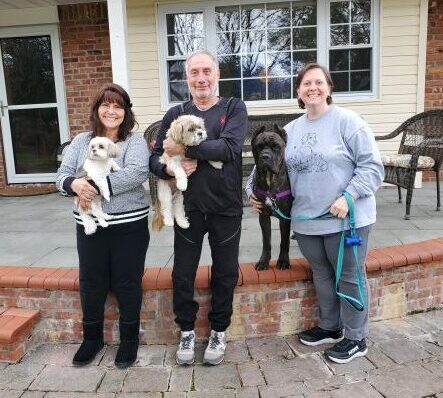 The first Sunday in April, we headed out for our regular morning walk in Griffin's park.  It was the first day of Little League, and upon entering the park, we saw families starting to gather.  I reflected on how far we had come together because even just a month earlier, I would have turned around and found a different morning walk route that would have avoided crowds of people.  Instead, Kilo became a bit of a minor celebrity.  A family sitting on a bench was admiring Kilo as we walked by, and the mom called out that he was a beautiful dog.  I turned to smile at her and she exclaimed, "I've seen you walking him in the neighborhood.  You have him so well trained!"  I laughed and replied, "You clearly did not see us in January or February!"  The dad and 2 little kids loved on Kilo, giving pets and hugs, when another family walked behind us.  That dad asked, "Is that a Cane Corso?"  It's rare that people pronounce the breed name correctly, so I was a bit surprised when I replied that indeed he was.  He then asked why I chose that breed, and when I shared that Kilo was a foster dog, the mom warned him, "Don't even think about it!".  She explained to me that they had recently lost their pit bull, a large male dog with similar brindle coloring to Kilo.  Their little bog was laying across Kilo while hugging him, and then looked up at me to share, "My dog died, and I miss my dog."  That broke my heart and I was glad that Kilo brought him some comfort.  And by this point, a small crowd of people had gathered to pet and admire Kilo.  It was so gratifying to see Kilo accepted and loved for the sweet boy he is, a far cry from the early days when people crossed the street to avoid us.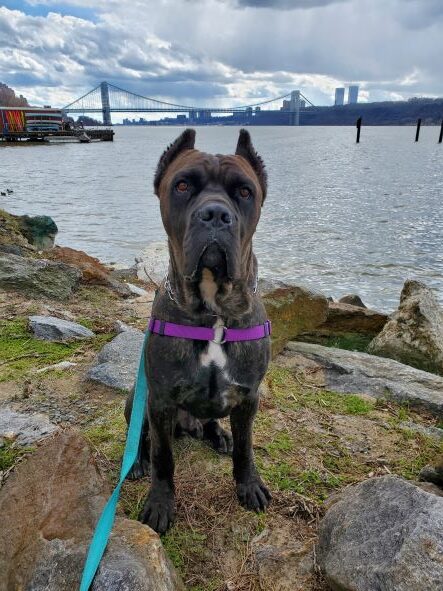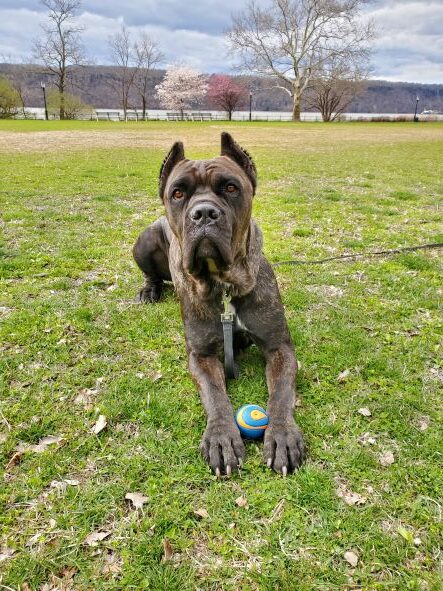 We spent our last weekend together soaking in the sun and eating lots of treats.  Of course, Kilo needed to leave a lasting imprint, chewing off a corner of the quilt on my bed on Saturday morning, which he thankfully pooped out on Sunday afternoon.  On Monday, after 11 weeks together, Kilo met his forever family and rode off into the sunset.  His mom has been wonderful with providing updates that confirm he is exactly where he is meant to be.  Of course I miss him tons – we had to work hard at our relationship which I know made our bond stronger – but I'm starting to get used to my quiet (and clean!) house again. 😉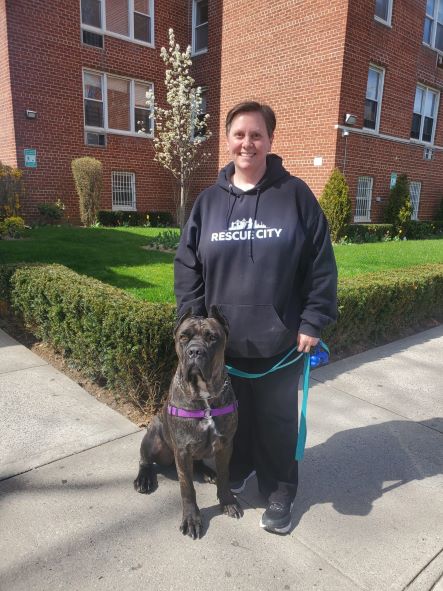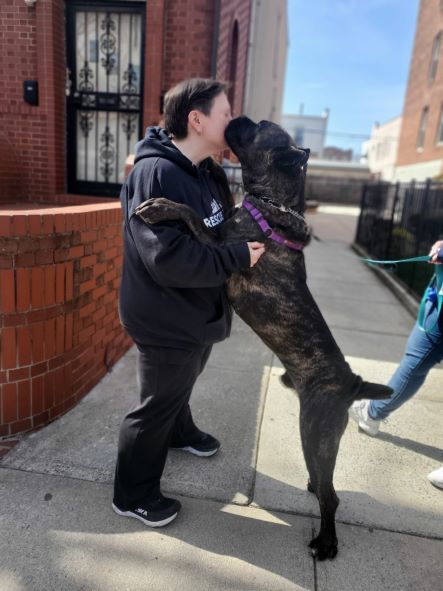 It wasn't ever easy, but for Kilo, I'd do it again in a heartbeat.  I love that boy and I wish him a long, happy life with his family. 🧡