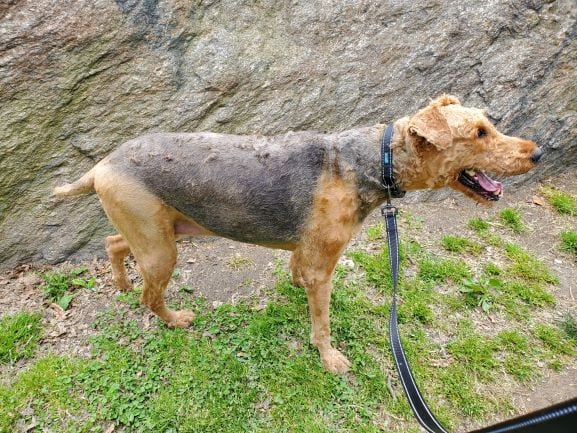 This is Nori and she came to stay with me on May 1.  She is an almost 6 year old Airedale Terrier (likely a mix due to her size, which is currently 107lbs).  She has a cranial cruciate ligament (CCL) tear in her left knee and will undergo tibial plateau leveling osteotomy (TPLO) surgery to repair it on May 17th.  She was surrendered by her previous family to the NYC Brooklyn shelter and then taken in by Rescue City, an organization with which I volunteer and foster.  She was placed with an emergency foster family for a week before coming to me, so this poor girl has been through quite a lot in recent weeks.  I'm not sure how long I'll have her, but I hope I'll be able to see her through surgery and recovery, and give her a solid start down her weight loss journey.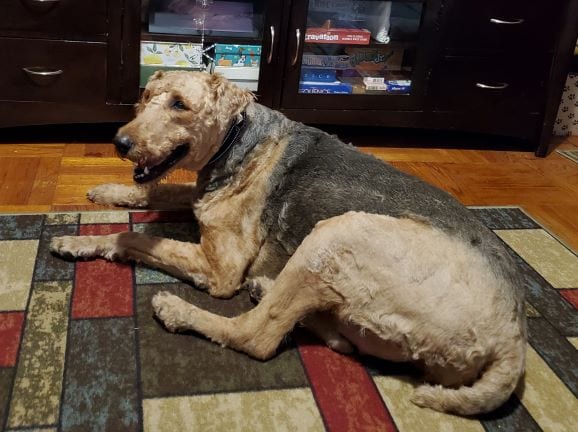 Nori is an absolute dream in the house and walks reasonably well on leash.  She loves other dogs of all sizes, kids, and adults, though she is in more of a "say hello quickly and move on" stage with humans – not sure if that will change.  She enjoys lengthy naps after our leisurely morning and afternoon walks.  She is starting to show some interest in toys and loves bones/chews.  Her leg is clearly bothering her, but she is so sweet and acting more relaxed with each passing day.  I am supposed to be crating her overnight and when I leave her alone, but she is definitely not a fan.  Like Griffin, her favorite sleeping position is sprawled on her side and even the XL crate (currently taking up quite a bit of real estate in my living room) does not allow her to stretch out.  I left her loose in my bedroom when I went out for a few hours today and she was snoozing contently when I returned, so I'm not going to push the crate.  I am home full-time, so I'll be able to enforce rest and limited activity after her surgery without needing the crate.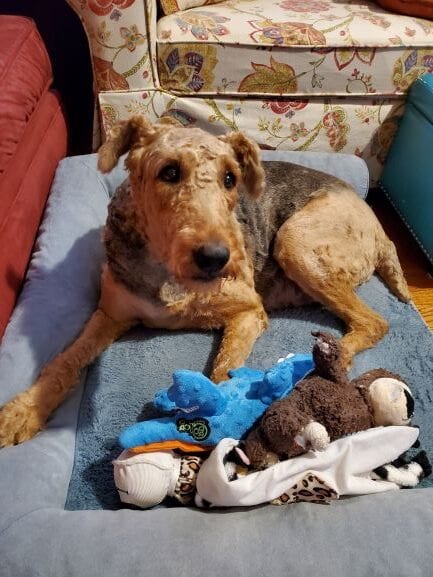 Her pain seems well managed for now.  My Tripawd experience has given me the confidence to advocate for her to be appropriately medicated…and to know to use Velveeta for administering meds easily.   She came with prescriptions for Carprofen, Gabapentin, and Amantadine, but the Carprofen has already run out and the Gabapentin will run out on Wednesday.  I know I have to go through the foster chain of command, but I really wish I could simply contact Rescue City's vet directly to get what she needs.  Fingers crossed that the meds issue is resolved promptly!
I am really enjoying having a dog in the house again and having a routine of caring for another living being.  And my Tripawd experience has ensured that our home is well prepared for Nori – rugs for traction, elevated feeder, and firm dog beds (although like Griffin, Nori seems to prefer the floor over beds!).  I am not certain I can lift Nori into the wagon at her current weight, and I'd like her to be a bit more comfortable with me before I try, but hopefully I'll be able to use the wagon during her recovery period.
Nori and Griffin are very different in a lot of ways – size and training are 2 big ones – but there are things she does that remind me of him which makes me smile.  And then there was this photo of Nori…kind of took my breath away how much the close-up resembles Griffin.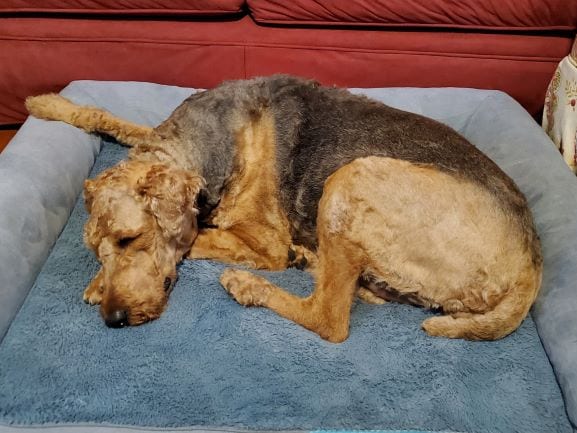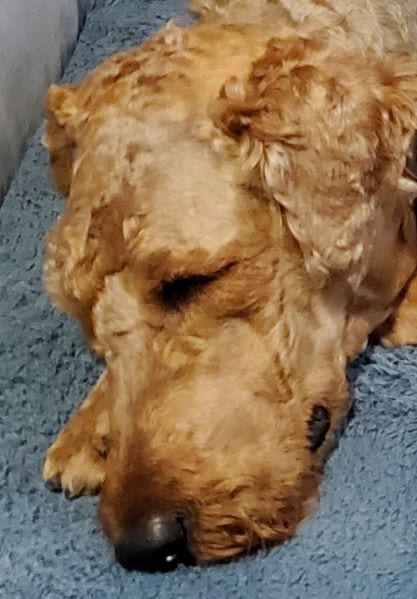 I probably won't post too often, but I'll definitely be back to provide a Nori update after her surgery.  In the meanwhile, please enjoy these videos and send healing thoughts her way!