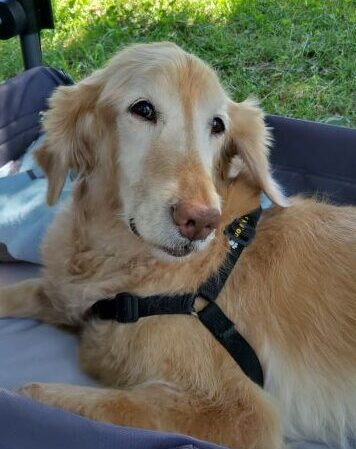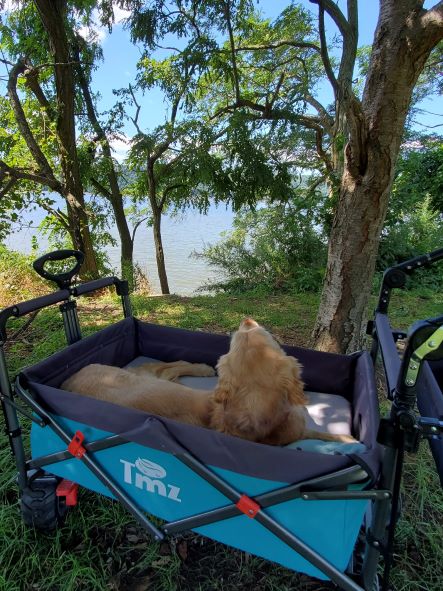 Gracie passed away peacefully this afternoon.  While she had improved in her ability to walk since last week, she never recovered the ability to get up on her own.  Last night she started limping on her front left leg and this morning she was unable to bear weight on it at all.  She was listless, disinterested in food, and had great difficulty toileting outside.  I let the recue know that I thought it was her time and they agreed, graciously allowing me to bring Gracie to my vet this afternoon.  Before that, we took a walk to Gracie's favorite spot in Griffin's park where she could see the Hudson River and enjoy the sunshine and cool breezes.
I know I did everything I could to make Gracie's final months joyful, safe, and loving.  My heart aches for the loss of her gentle, loyal spirit, but in her eyes I could see that it was time for her to go.  My heart also aches for the family that surrendered her in July.  They may not have had the resources to care for her medically, but based on how well-trained and sweet she was, I know they must have loved Gracie very much and not knowing what became of her must be agonizing for them.
As challenging as our time together was occassionally, I do not regret for one second taking Gracie into my care.  And while some common medical issues with Griffin brought up painful memories, I am so very grateful that my experiences with Griffin made me a better advocate for Gracie, including knowing when her quality of life was compromised to the point where I needed to let her go peacefully and pain free.
Gracie met so many of my family, friends, & neighbors, experienced Beaver Creek in Pennsylvania, and took long walks in the park almost every day.  I am thankful to have shared such fun times with Gracie and I will hold her in my heart forever.  May her memory be a blessing.