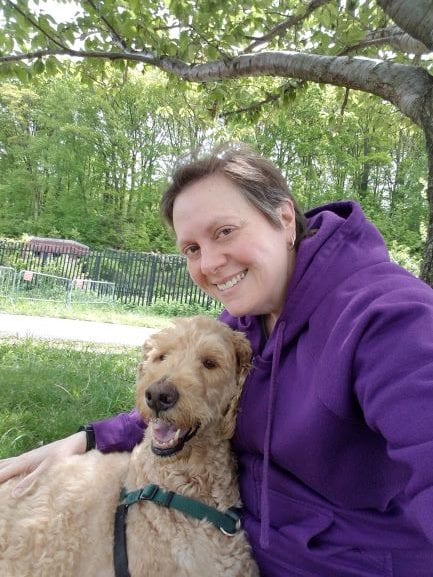 Griffin has his second rehab appointment today, this time at Advanced Canine Rehabilitation Center in Warren, NJ.  It's about 45 minutes from our home, and I don't think I've ever been so happy to have to drive to New Jersey!  Griffin was also excited to go for a car ride – both of us are tired of being home!  I was lucky enough to accompany Griffin for his entire visit, which was so helpful in terms of seeing the massage techniques and stretching exercises for Griffin.  David was so patient and informative, taking his time and explaining everything he did.  Just like with human massages, there were some moments when Griffin was uncomfortable due tension in his body, but I could see when the massage would release that tension and his whole body would go limp.  David's assessment was that overall, Griffin is doing remarkably well.  We will be going back in a month, at which time David will have a recommendation for a brace for Griffin's carpal (wrist) joint on his remaining front leg.
Griffin got a summer haircut yesterday.  It's a tad shorter than I normally have it cut, but it will grow fast and the shorter hairdo helped to even out the patchwork all over Griffin's body from the many recent times he has been shaved for surgery and subsequent procedures.  He's a happy, handsome boy no matter what!
After waiting 6 days from the second round to chemo to make sure he did not suffer any side effects, Griffin started taking some of his supplements (vitamins, colostrum, and Turkey Tail) yesterday.  I'll introduce the remaining ones slowly to ensure he tolerates them well, mindful that dosages may need to be tweaked to be just right.
Nothing much else is new on our end.  Griffin continues to thrive (he is now 7 weeks and 1 day post surgery) and as long as he is doing well, I am happy!
xoxo Stacy