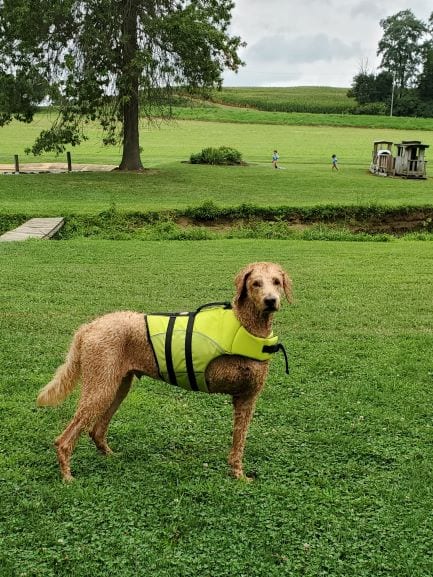 Griffin and I spent last week at Beaver Creek Farm Cabins in Lancaster County, PA where my family vacationed for years during the 1980s and where a group of us returned in 2018.  I love the tranquility and disconnected pace at Beaver Creek, but this year's visit was particularly special due to the restrictions the pandemic has imposed on our ability to visit family, most of whom we haven't seen in months.  So many of Griffin's favorite people – nieces, godchildren, and chosen family – were with us last week, and coupled with the freedom to roam and swimming in the pond, it was definitely Griffin's version of paradise!  Griffin did not let his tripawd status slow him down – he swam for an average of 5 hours each day we were there!
Griffin has always been protective of the kids, especially in the water.  When they yell coming off the diving board in a pool or the pond, Griffin feels the need to "rescue" them.  You can hear him whining in some of the videos as he tries to get close enough to save them while also holding onto his bumper float toy.  The kids became quite adept at throwing his toy far away from the diving board so that they could jump in peace for a few minutes!
I hope you can tell from the photos and videos below how much of a blast we had on our vacation! We hope that you are having good times and finding tranquility in this summer of covid.  Stay safe!  xoxo Stacy
Our cabin is at the end of the road going through the covered bridge.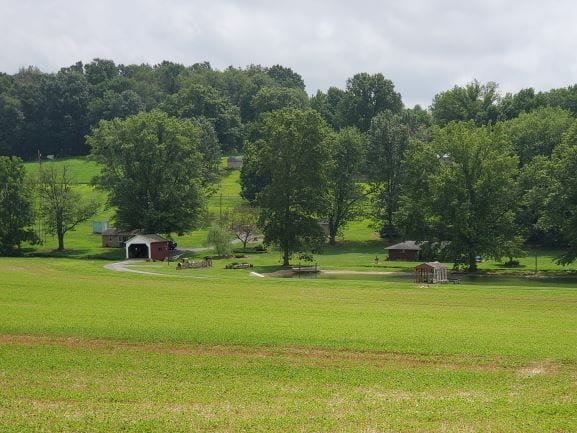 My dear friend, Virginia, brought her pups, Dewie and Peanut, and Griffin was thrilled to share his vacation paradise with them!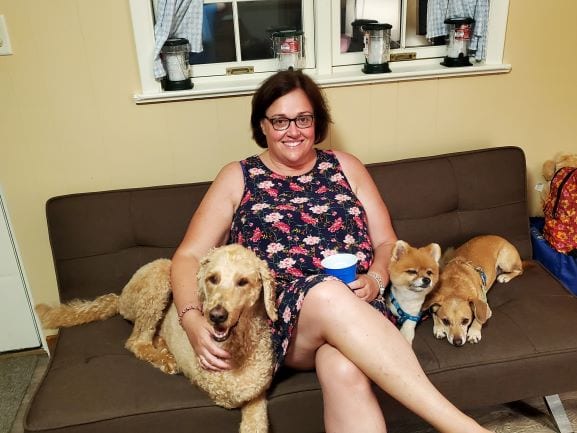 Griffin never missed a chance to cuddle with his kids!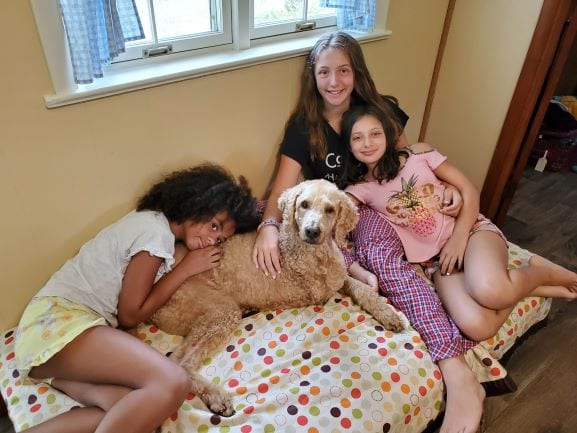 My oldest godchild, Joana, is one of Griffin's absolute favorite humans because they have grown up together.  The first photo was taken in March 2020 when Joana was 7 and Griffin 8 weeks; the second photo was taken last week!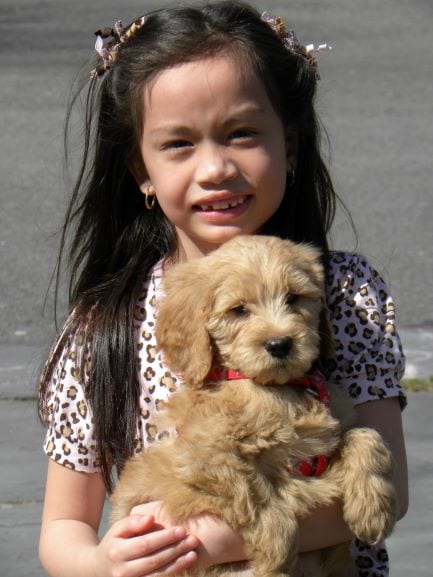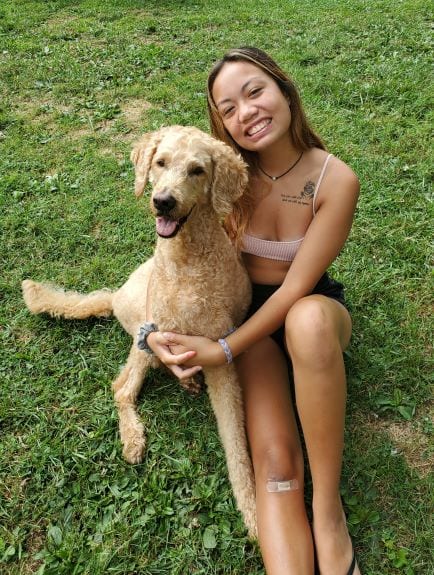 We are missing a few in this photo, but Griffin and I consider all of these kids "ours" – Valerie (10), Gabriel (9), Hailey (12), Makaylah (10), Phineas (9), Savannah (3), Madeleine (19), and Joana (17).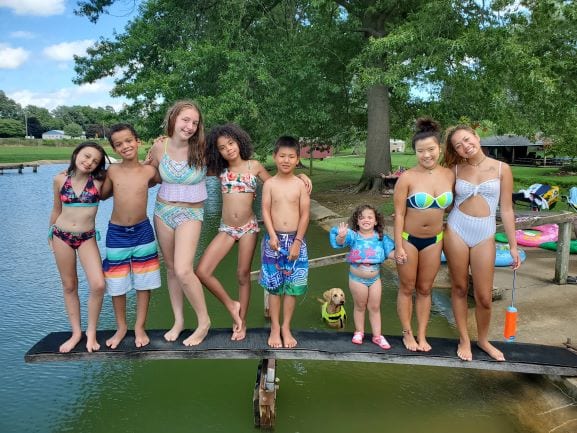 Griffin was an absolute fish, coming out of the water only when forced to rest or eat!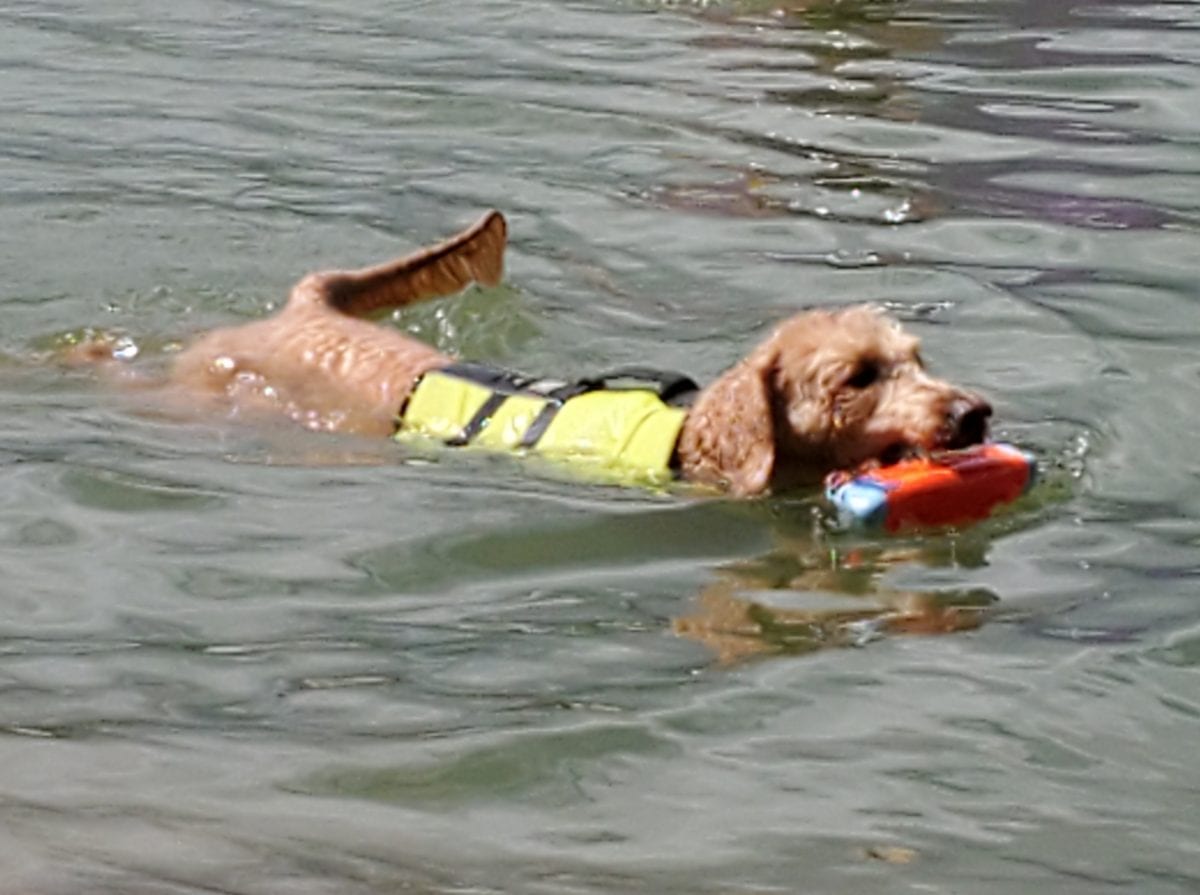 In the videos of Griffin's swimming below, I hope you can appreciate the beauty of our vacation home!