Griffin had his fifth round of chemo today (second round of doxorubicin), which was preceded by a rehab session.  The rehab therapist said that Griffin was an excellent patient during massage and stretches, and his oncologist, Dr. Camps, was happy with the results of his blood work prior to the chemo treatment.  The Animal Medical Center has loosened certain Covid restrictions, and I was able to accompany Griffin into the hospital and up to the rehab/oncology floor before turning him over.  And, I finally got to meet Dr. Camps in person – whoo hoo!  👏
Griffin is completely recovered from his wagon accident.  One outcome of the accident is that we have switched back to using the Animal Medical Center for his rehab.  For the last 2 months, we had gone to a rehab place in New Jersey that allowed me to remain with Griffin during his sessions, and it was nice to get out of NYC occasionally.  However, we had to cancel Griffin's appointment scheduled for the day after his accident and it was difficult to reschedule it due to limited availability.  So, I was grateful that AMC was able to squeeze us in the weekend after his accident and we have set up a schedule for Griffin to have a 30-minute rehab session immediately prior chemo, both of which occur on the same floor of the hospital.  And, because the rehab sessions are conducted by a veterinarian, my insurance will cover the cost.
While we had gone to AMC for two rehab sessions soon after Griffin's surgery, it has been a while since the last one, so Dr. Cherno conducted a comprehensive re-examination of Griffin on June 18, 2020.  He said that Griffin looks great and is moving well.  Dr. Cherno gave me a bit of a scare when he said that Griffin was painful in his front outer toe knuckle and that he could feel a thickening of that joint.  He said that Griffin bared his teeth when that joint was manipulated, so he and Dr. Camps (who happened to be there that day) recommended taking an x-ray to rule out any significant issues.  Thankfully, the x-rays were clear and no matter how hard I pulled, bent, or squeezed that joint once we were home, I could not get any reaction from Griffin, so I'm not sure what was going on. 🤷‍♀️
Another silver lining of that incident is that I noticed Griffin seemed to have more energy and could move more easily once his activity restrictions were lifted, which I believe is a result of being on the non-steroidal anti-inflammatory drug (NSAID) Galliprant which Griffin  took before and after his surgery.  Griffin's oncologist recommends the NSAID Piroxicam, which comes in standard doses of 10mg or 20mg, but the correct dosage for Griffin is 8mg.  So, I now know about veterinary compounding pharmacies which create custom dosage pills/capsules.  It was worth the time I took to comparison shop as I found a wide range of prices ($0.47 vs. $1.63 per capsule) for the same exact prescription, and chose Golden Gate Veterinary Compounding Pharmacy.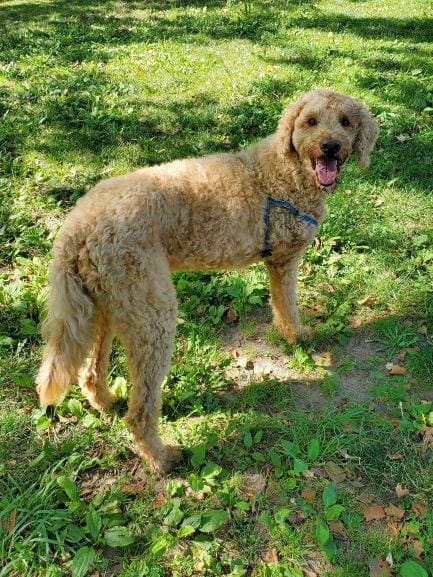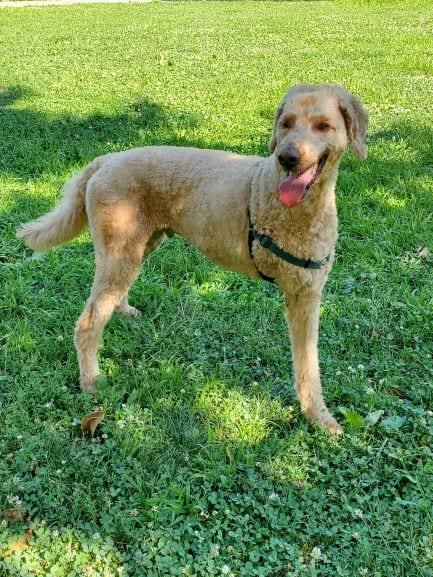 Griffin and I had another great visit last week to Long Island to spend time with Dad and Donna.  Griffin continues to swim with his right leg tucked high, using it only when turning.  Dr. Cherno says it is normal for dogs not to use their back legs at all (hence the name "doggie paddle"), although in videos taken years ago, I can see that Griffin used his back legs while swimming. And while we were on Long Island, Griffin got a much needed haircut, as can be seen in the before and after photos above!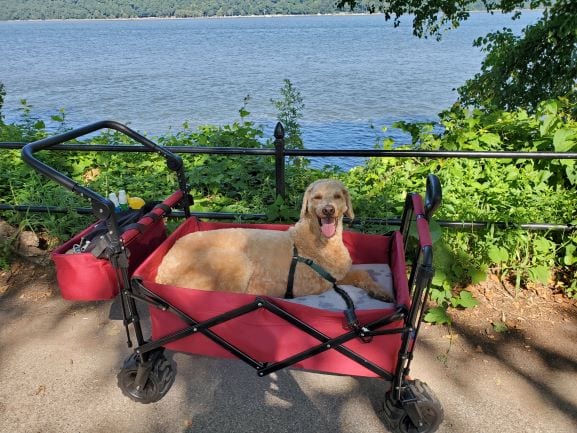 Sunday will be Griffin's 4 month ampuversary – hooray!  On Saturday, we are heading to Lancaster County, PA for a week-long vacation with family and friends, and Griffin will have a blast with some of his favorite people!  We hope that you are enjoying some summer fun and staying cool under this heat dome that has settled across the country.  Stay safe!  xoxo Stacy
Griffin enjoying life and the cool grass still covering in the morning dew.
Griffin swimming using his own special doggie paddle style.
Griffin checking out the dog trail while we were on Long Island.  He usually runs ahead but always waits for me to catch up.  What a good boy!