Griffin had a physical therapy appointment yesterday, his second at Advanced Canine Rehabilitation in Warren, NJ.  His therapist, David, did a lot of body work on Griffin, which I could tell was uncomfortable for him at times because his muscles were tight.  However, after an hour of stretching and massaging, Griffin was as loose as a limp noodle and happily showed off that he could do his flexibility exercises with ease.  About a week ago, I noticed that Griffin was walking with a different gait on a pretty regular basis – extending his back legs to move them more independently rather than using the quick 1-2 hop that he had adopted since his surgery – so I shared with David the video below.  David said that the new gait actually looked really good and was a positive sign that Griffin was figuring out how to walk a bit more naturally as a tripawd.  Whoo hoo!
The last time I cooked for Griffin, I doubled the recipe and squeezed out 19 portions.  It's a good thing my freezer is half empty to fit so many containers!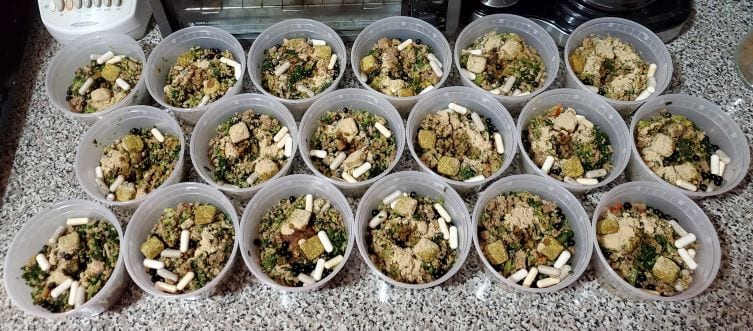 Griffin loves his bolster bed, happily snoozing for hours and occasionally checking that I'm still around!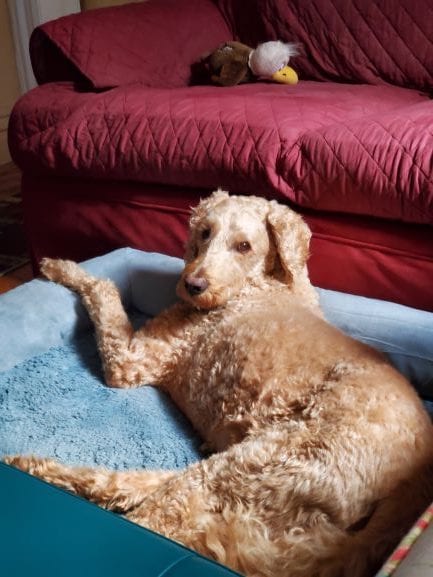 We have settled into a regular routine with the wagon coming with us on all but the shortest of walks.  In addition to the workout I get from pushing this 60 lb boy around, I'm also building muscles when lifting him into and out of the wagon multiple times on each walk!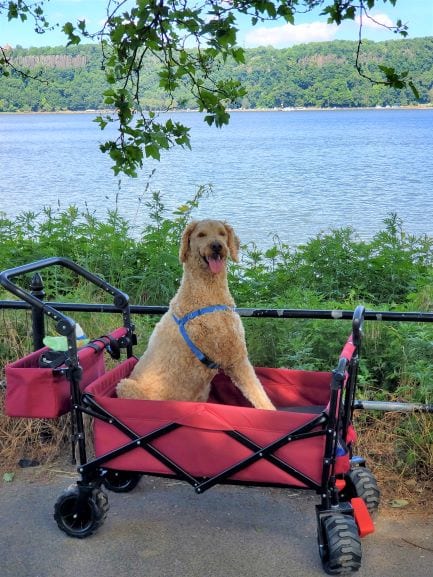 My boy sure does keep me laughing with his antics!  We hope you had a great week.  Stay safe and wear a mask!  xoxo Stacy